Experienced Consultant Norman Brings extensive legal knowledge to AWS Legal, specializing in development, property, company law and forestry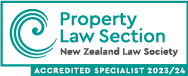 A Consultant of AWS Legal, Norman has extensive knowledge in all aspects of the law. He works predominantly in the areas of development, property, company law, business acquisitions, trusts and forestry.
Since joining AWS Legal in 1983, Norman has established a significant practice catering for clients throughout the South Island. He travels to AWS Legal's Christchurch office weekly, as well as working with clients in Invercargill and throughout the South Island.
Norman served as an Invercargill City Councilor for 15 years and as a Director and Chairman of Invercargill City Holdings Limited. He holds many other Directorships for clients and his legal background and experience has helped clients at a Corporate and Governance level.
Away from work, Norman enjoys family time, biking and relaxing in Central Otago.
Examples of Norman's experience is set out below.
Advising on a broad range of commercial transactions including acquisitions and disposals, corporate restructuring and the negotiation of commercial contracts;
Acting for clients selling and purchasing industrial land, farms, commercial properties and residential properties;
Undertaking subdivisions including specialised advice relating to easements, covenants, encumbrances, consent notices and unit title developments;
Advising clients on trust matters including advice on the new trusts legislation, variations, new trusts, distributions and winding up trusts;
Acting for clients purchasing forest land or wanting to enter into joint ventures with forestry companies, providing advice on carbon trading and registering forestry rights;
Assisting clients with complex company and shareholder issues;
Providing strategic advice on succession matters to large corporates and farming clients.