Celebrating a Milestone: Jessica Yeo Admitted to the Bar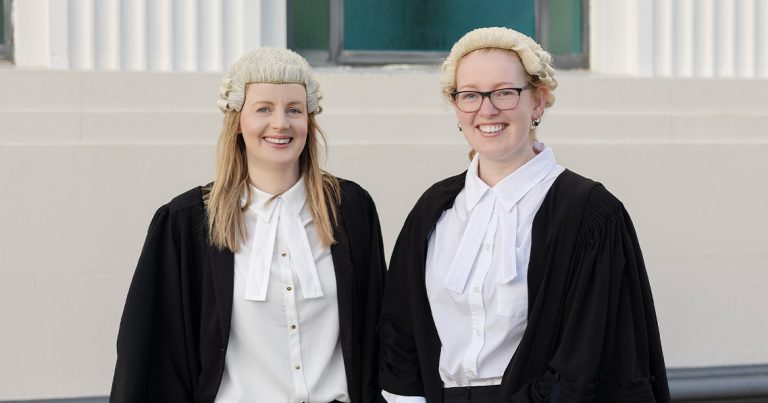 Tuesday marked a significant milestone for Jessica Yeo and AWS Legal as Jess was officially admitted to the bar. A dedicated member of our Property and Projects team, Jess's accomplishment represents her commitment to legal excellence and the culmination of years of hard work.
Trudy Conway, Partner at AWS Legal and the lawyer who had the honour of admitting Jess, expressed her pride and delight. "At AWS Legal, we celebrate the individual achievements of our team members as collective victories for our firm," Conway said. "Jessica's passion for law and connection with people are the pillars of her role as a solicitor in our Property and Projects team. Her greatest strength is her client-focused approach – understanding our clients' unique circumstances, empathising with them, and tailoring advice to fit their specific needs."
Reflecting on the day, Jess shared, "Today marks the culmination of years of hard work, but being admitted to the bar is just the beginning. I'm thrilled to be starting this new chapter of my career at AWS Legal, and continuing to serve our clients as part of the Property and Projects team."
Jessica holds an LLB and a Bachelor of Commerce in Accounting and has been a member of AWS Legal since starting as a Winter Clerk in 2022.
Under the guidance of Partner Trudy Conway, Jess navigates a wide range of property law matters. Her areas of knowledge include residential conveyancing, local government work, and drafting easements and encumbrances.
Beyond her professional commitments, Jess is enthusiastic about exploring Southland, while camping, and on boating trips. As an avid reader and baker, she also finds joy in a good book and the art of baking.
We are proud to have Jess as a part of our team, and we look forward to her contributing her expertise and fresh perspectives to serve our clients better. Congratulations, Jess!